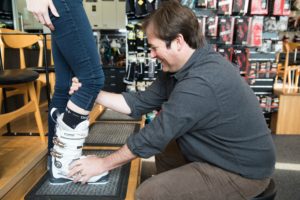 Dr Ned Buckley owns and operates Boot Solutions in  Niseko and Hakuba Japan,  a specialist custom ski boot fitting service.
Boot Solutions has been operating in Japan since 2006 and proudly offer one of the largest selections of ski and snowboard boots in Japan, with over 120 models from 11 of the leading brands.
Boot Solutions is unlike other boot stores and operates with a unique philosophy. Ned has been able to drawn upon his medical knowledge and  16 years of boot fitting experience, to develop a holistic boot fitting methodology, which is practiced by each of his boot fitters.  This enables him to provide an unrivalled service for his clients.
Whether you are looking to invest in your first pair of ski boots, looking to upgrade, or have complex foot issues and have previously struggled to find a pair of comfortable boots, we can help you.
For further information, please visit our website www.bootsolutionsjapan.com or email us at info@bootsolutionsjapan.com.
Please note, if you are based in Perth and would like advice on ski boots or would like a pair of custom orthotics made for your existing ski or snowboard boots, we are happy to assist you at our West Perth practice.