Dr Buckley is proud to once again be the head volunteer Podiatrist for the annual Oxfam Trailwalker event held in October. The event will see teams participate in either a 50km or 100km walk over 48 hours.
For Participants
If you want to give your feet the best chance of lasting the distance, you can make an appointment with Ned ahead of the event and he will conduct a full examination, biomechanical assessment and footwear analysis to identify any areas which may cause you problems. He can also craft you a pair of custom orthotics at his West Perth clinic to support and cushion your feet, help to prevent blisters and chaffing and to address any biomechanical issues you may have.
In the spirit of this worthy fundraising event, Dr Buckley will pledge $30 to each Oxfam team member who is prescribed a pair of custom orthotics from our clinic before the 4 October 2018. He will also pledge $10 for each Initial Consultation with a Trailwalker participant before the event.
Ned will be presenting two foot care presentations at Paddy Pallins on 31st May and 1st August. For more information or to book, please visit https://trailwalker.oxfam.org.au/perth/
Ned has also prepared a Foot Survival Guide to share his advice on footcare, shoe and sock selection, and blister management to help you complete the walk with as little pain and problems as possible. Please click the picture below to download the PDF guide.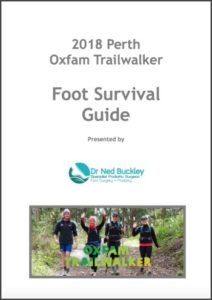 Dr Buckley has also put together a comprehensive foot taping demonstration video to give you some great tips on correctly taping your feet before the big event.
To book an appointment with Dr Buckley to help you prepare for the event, please click the button below or call our clinic on 9481 8194.